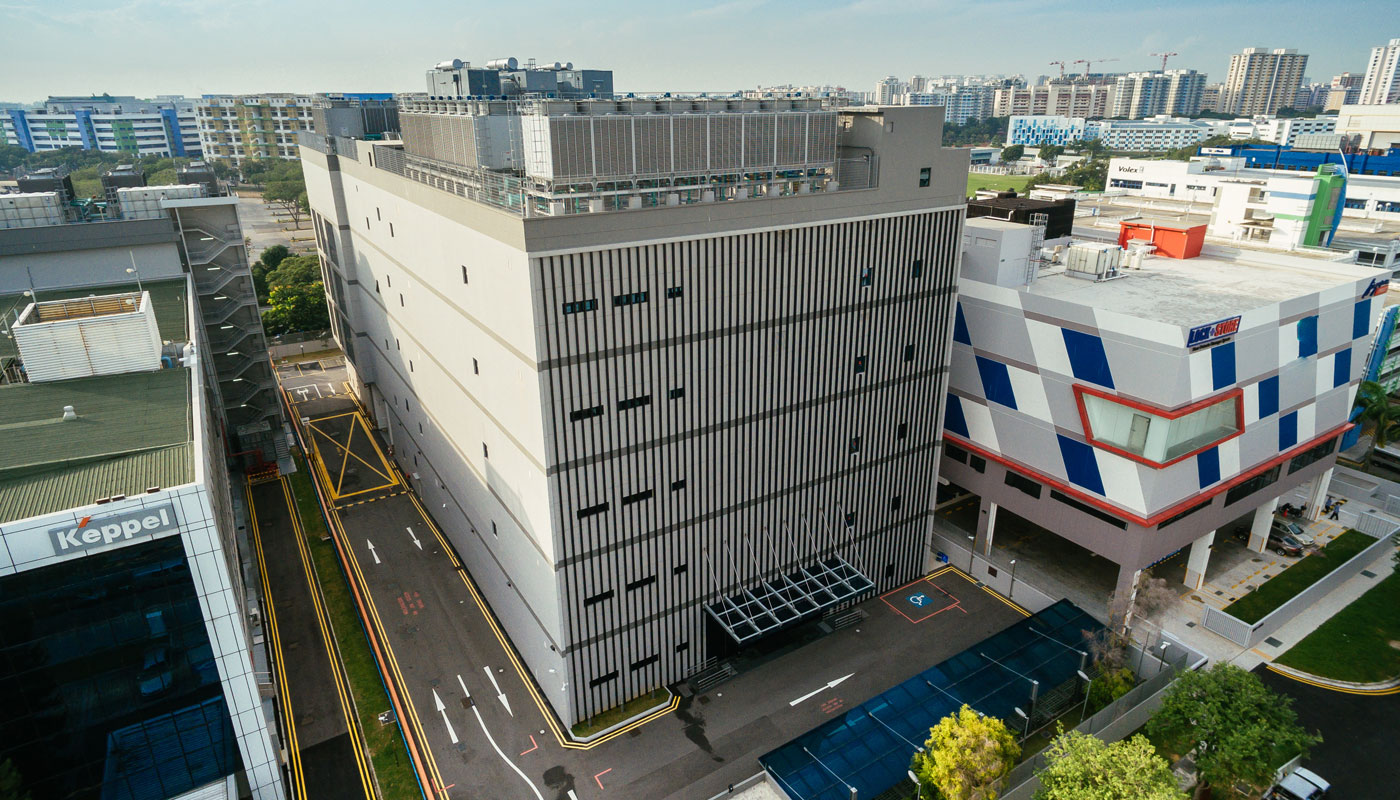 Keppel DC Singapore 3
Keppel DC Singapore 3 (KDC SGP3) is a modern five-storey carrier-neutral data centre providing data centre solutions, dedicated co-location suites, as well as 24×7 technical support. Strategically located adjacent to Keppel DC Singapore 2, Keppel DC Singapore 3 seamlessly integrates as a large-scale data centre complex providing quality colocation services for our valued clients.
With a total Gross Floor Area of 133,878 sq ft, KDC SGP3 is located within the Tampines Industrial Park. This is part of Keppel Data Centres' Tampines ecosystem, which provides opportunities for hyperscale cloud companies and local enterprises to strategically expand their digital presence in other Keppel-owned facilities (KDC SGP2 and KDC SGP4) located in close proximity within the Tampines cluster.
KDC SGP 3 is the first data centre in Singapore to achieve the BCA-IMDA Green Mark (Platinum) Award, the highest green accolade from the Building and Construction Authority of Singapore and the Info-communications Media Development Authority of Singapore. Recognized for its energy-efficient specifications to meet high-powered rack requirements, the facility serves the mission-critical needs of multinational cloud service providers and local enterprises.
KDC SGP 3 has been certified to have fulfilled the requirements of the following:
ANSI/TIA-942-B:2017 Rated-3
ISO 9001:2015 (Quality Management System)
ISO 14001:2015 (Environmental Management System)
ISO/IEC 27001:2013 (Information Security Management System)
ISO 45001:2018 (Occupational Health and Safety Management System)
ISO 46001:2019 (Water Efficiency Management System)
ISO 50001:2011 (Energy Management System)
PUB Water Efficient Building
SS 564 Part-1:2013 (Energy & Environment Management System)
SS 507:2015 (Standard for Business Continuity and Disaster Recovery (BC/DR) Service Provider)
SS 577:2012 (Water Efficiency Management System)
Workplace Safety and Health (WSH) Council – bizSAFE Level Star